Spencer Stirling
Andy, Antonia, Astrid, and I decided to camp in Big Bend for Thanksgiving this year instead of heading home. Our intention was to still enjoy a nice turkey dinner with all of the fixings prepared on the fire, but get out of Austin for a while. So we froze four GIANT turkey drumsticks and prepared everything else before we left.
Since it was Thanksgiving we wanted to do the car camping thing, so we pulled in near the river road on the border. To our happy surprise, we were greeted with these wild turkeys roaming the campground. Instead of having my frozen drumsticks, I snapped this turkey's neck and we all enjoyed the fresh meat from the fatted land.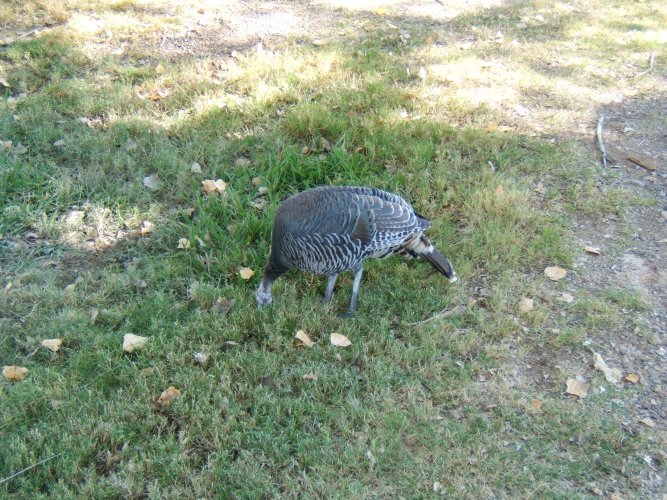 OK, I'm lying. I seriously wanted to, though - this little guy had no idea what day it was.
Since we pulled in a bit late, we had only 2 hours or so of daylight left. We decided to go look at Santa Elena Canyon on the border. I was really impressed with how cool this canyon is - here is a ruin near the border: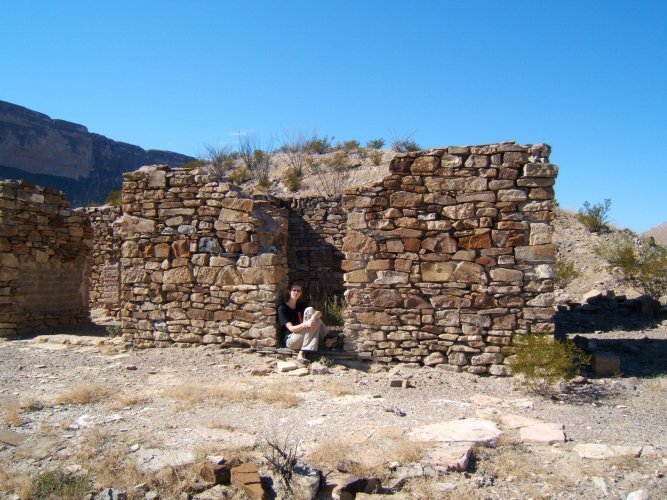 The canyon itself is a simple walk in, but it offers very nice views. I have a hard time understanding the geology here - on the other side of the Rio Grande is an abrupt cliff that seems to shoot up from nowhere and stretches from horizon to horizon. Only a single break interrupts this monolith, and that is a giant notch called Santa Elena Canyon.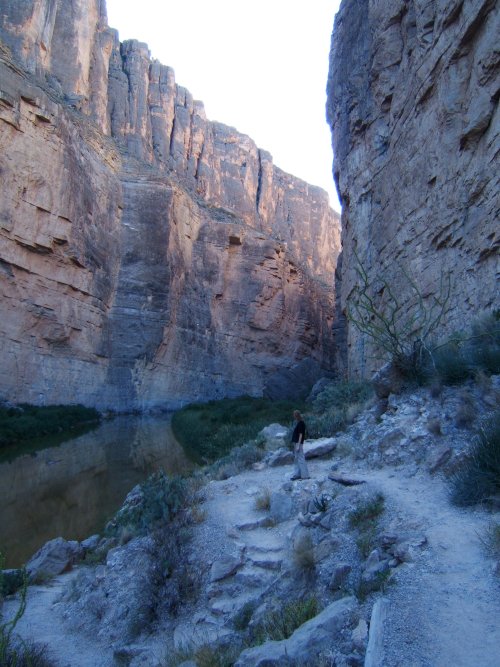 Since we were in the canyon near sunset we caught some spectacular views of the river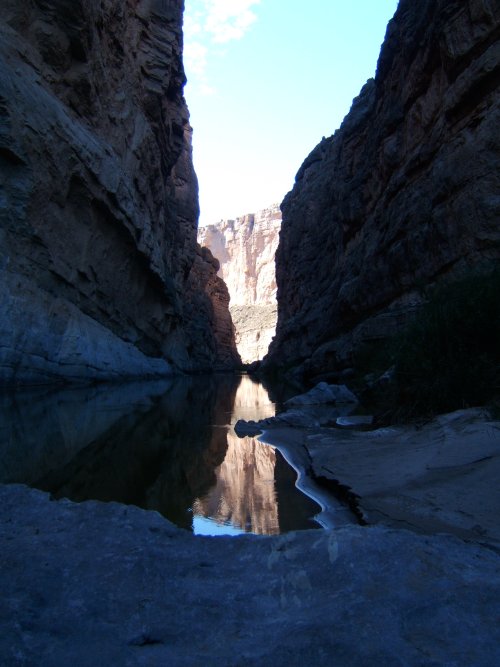 Notice that Astrid is wearing a t-shirt - the temperature was very comfortable.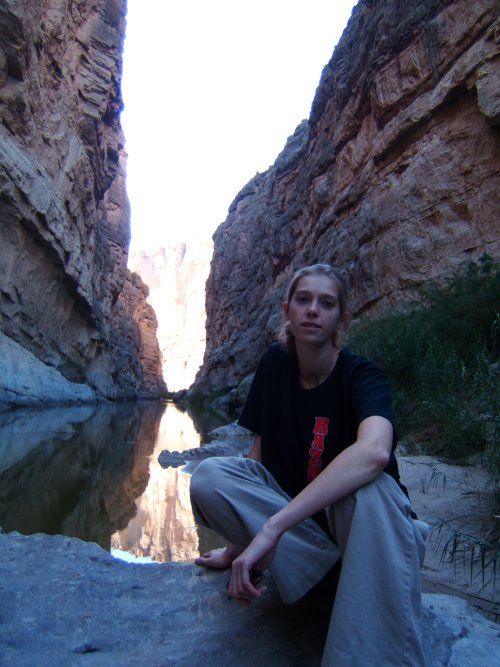 That night we embarked on our mission to fix an entire Thanksgiving dinner over a fire. I must say that - after trying this - it was a bit of a disaster. I wish that I had a picture of those turkey drumsticks, because they were directly out of a medieval movie. More like barbarian clubs than pieces of meat, they were *still* frozen solid when we finally got around to cooking them. Therein lies the problem. After several hours of cooking we were left with frozen popsicles encased in charred flesh - a delicious beginning. We gave up on the turkey and attacked the stuffing, yams, and mashed potatoes with a frenzy that only campers understand. Fortunately we also had REAL cranberry sauce, not that ridiculous canned jelly that everybody seems to use, so after drowning my turkey in that everything seemed good anyway.
Considering the huge dish problem that was left, I don't think that it was worth it. I couldn't even enjoy my glass of wine the entire night. Ironically, the next night (which consisted of leftovers) was awesome - so at least part of Thanksgiving was recovered!
Here was an amazing formation right on the road! It looks like a giant ice cream cone.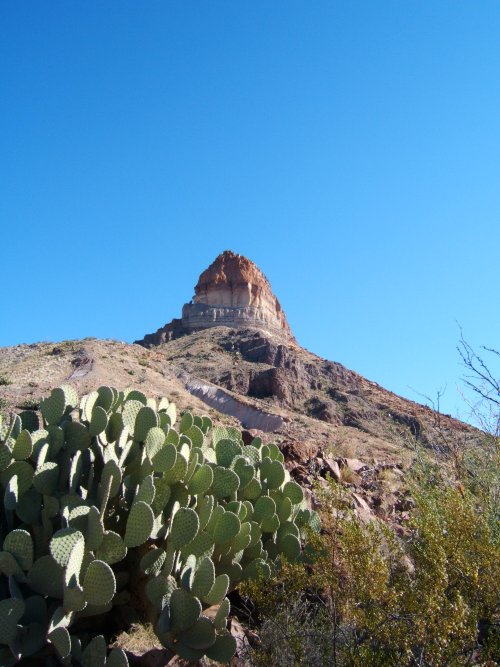 I don't know where Andy and Antonia went, but Astrid and I hiked in about 45 minutes to check out some amazing volcanic formations. Now I've forgotten the name of this place, but this is an interesting chute formed by a (dry) waterfall. The rock appeared to be volcanic: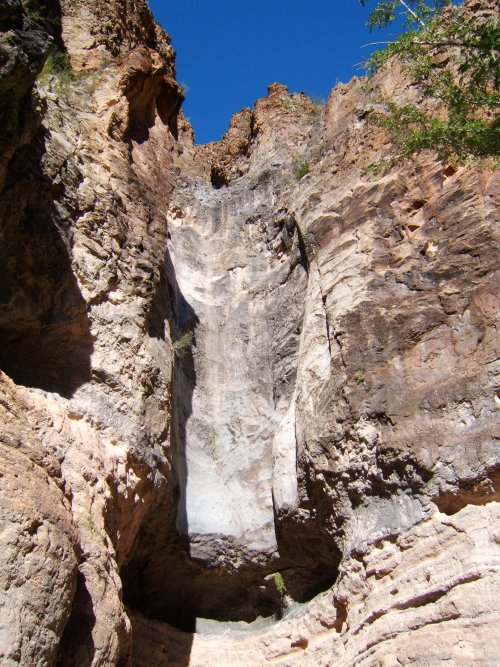 Hiking out I caught this excellent view of that prominent layer. It's time for Spencer to take some geology classes!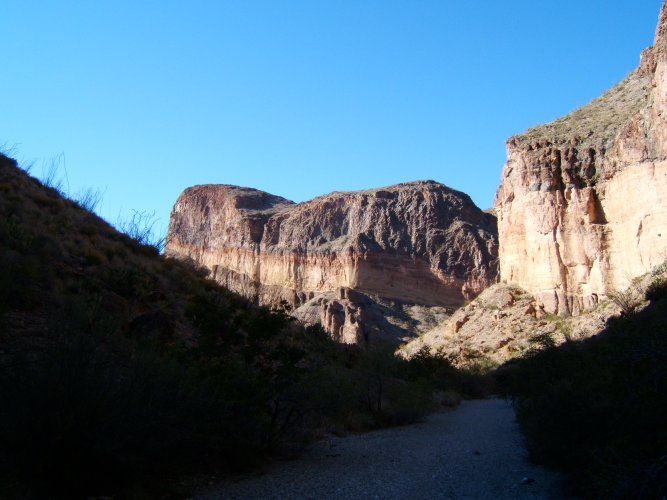 Later that day the four of us drove into Chisos Basin (the "crown" of mountains in the center of the park) to check some of that out. Here we walked to a little place called the "Window". The trail was a bit busy, but pleasant anyway. I must say, however, that I'm disappointed with the conservation and management of Chisos Basin. The campground in Chisos Basin is a serious EYESORE, and I particularly enjoyed the sewage treatment area along my hike. Although it appeared to be out of use, it seems that the NPS hasn't done much to recover the area.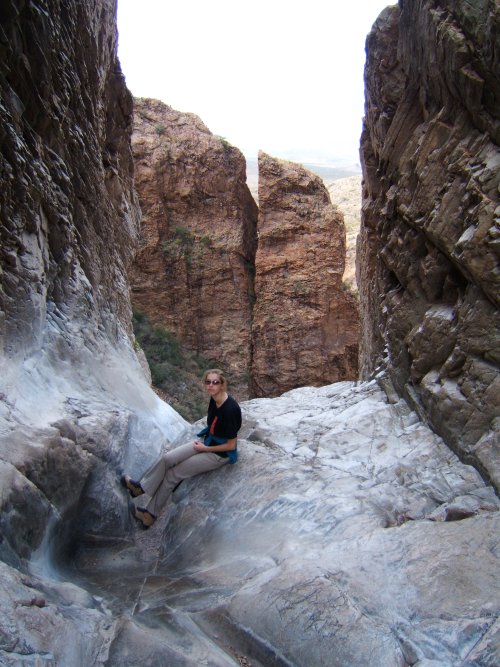 This is called Toll Mountain (I think). We didn't hike that one, but instead Astrid and I hiked (the next day) the slightly higher Emory Peak next door.
With Andy and Antonia still with us (they had to leave the next morning) we decided to check out the other side of the park near the Mexican border village named Boquillas. I had been to Boquillas Canyon before and I wanted to take another look. The Rio Grande is quite beautiful in this place.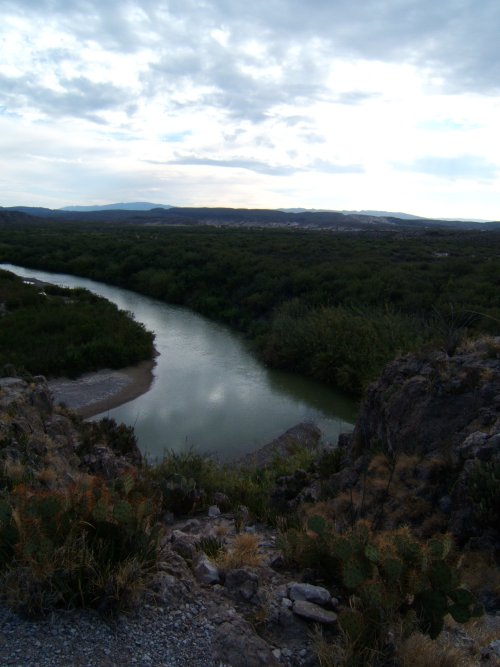 The canyon itself is very beautiful, although it is best to keep a good watch on your car around here since many people illegally jump the border to steal (a problem all along the river road). Crossing is very easy here, as is clear by the many Mexicans selling walking sticks and rocks along the trail - always ready to wade back across the river at the first sight of border patrol.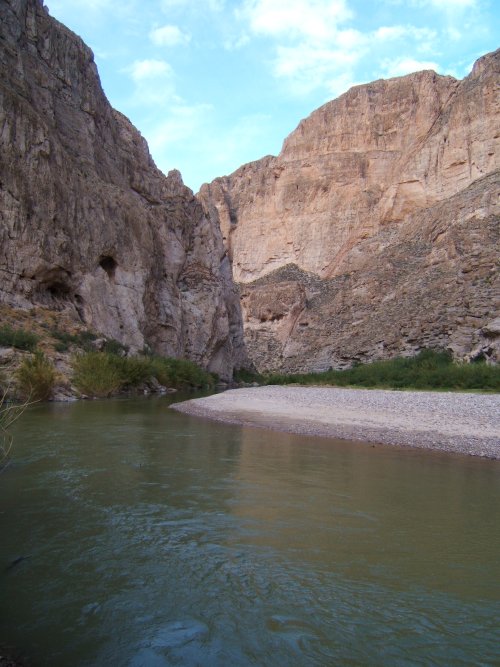 Here's a good shot of Andy and Antonia.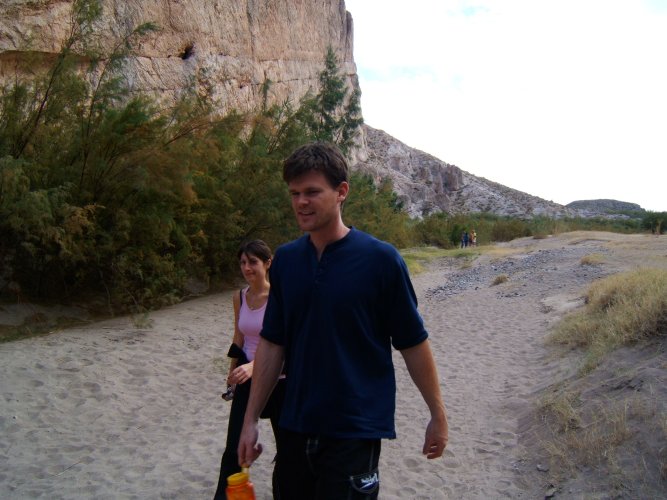 At the end of the (short) walk there was a jar asking for "money for the children of the Boquillas Village".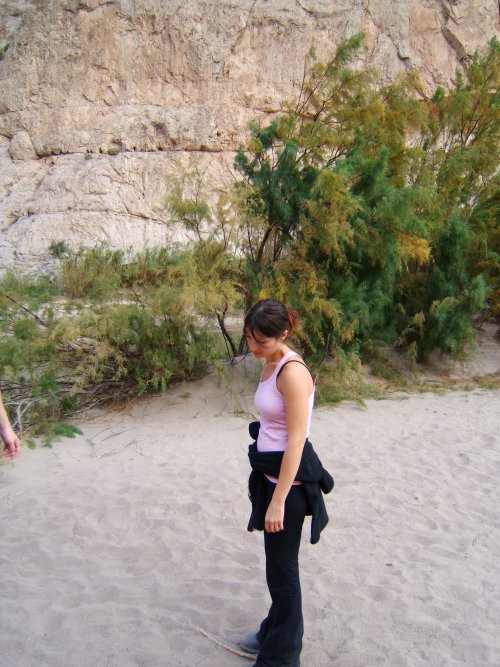 Obviously Andy and Antonia believed that scam about as much as we did.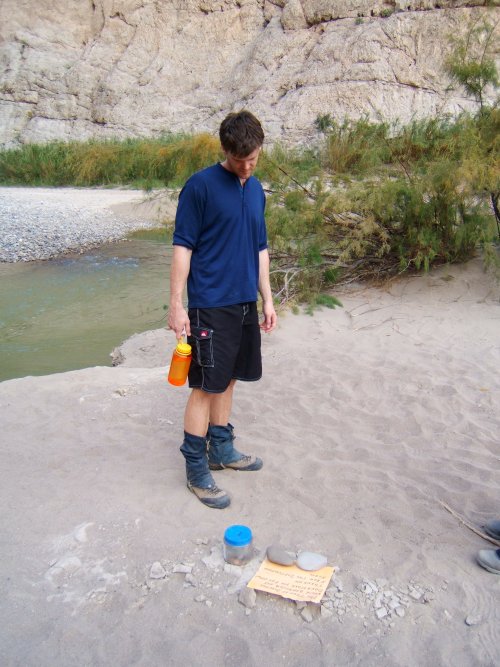 There is an incredible faultline up in that canyon - one piece of the cliff must have literally sheared off the other at a diagonal.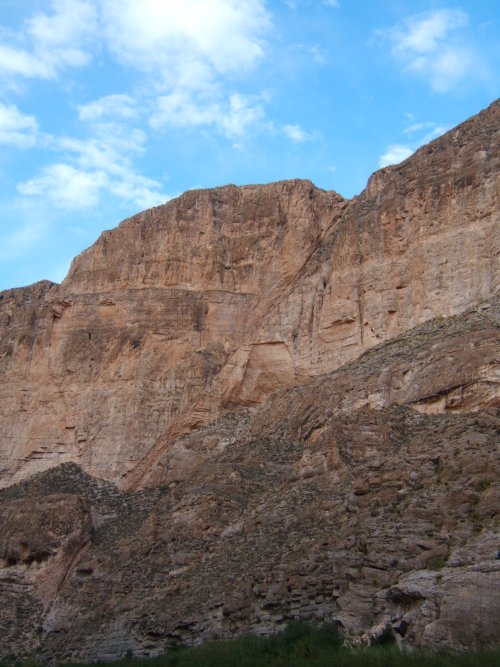 When I came before in 2000 my brother Travis and I found a cool cave up in the side with a large sand dune leading to it (well... it wasn't hard to "find" since it's completely obvious). I climbed up in then, but this time Andy and I were content to just run down the sand hill at full speed and look out for the occasional rock from which to jump.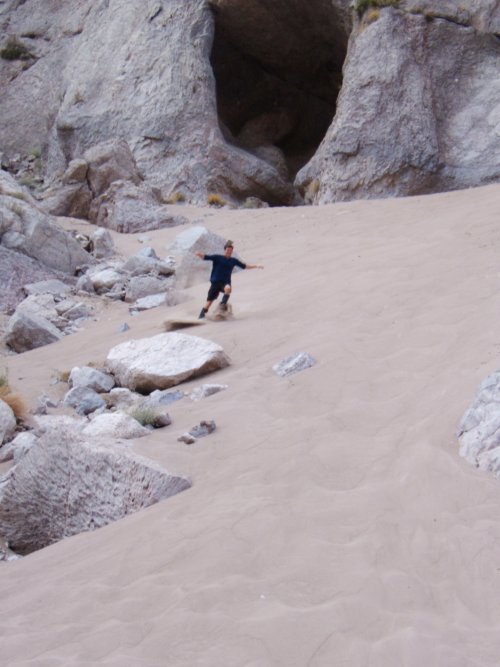 Afterward we all decided to hit the nearby hotsprings on the river for some relaxation. Andy and I were the only ones to get in - Astrid wanted to read Harry Potter, and Antonia wasn't amused. From my look of annoyance in this picture, neither was I. If you look closely you can see a Mexican guy camping directly across the river.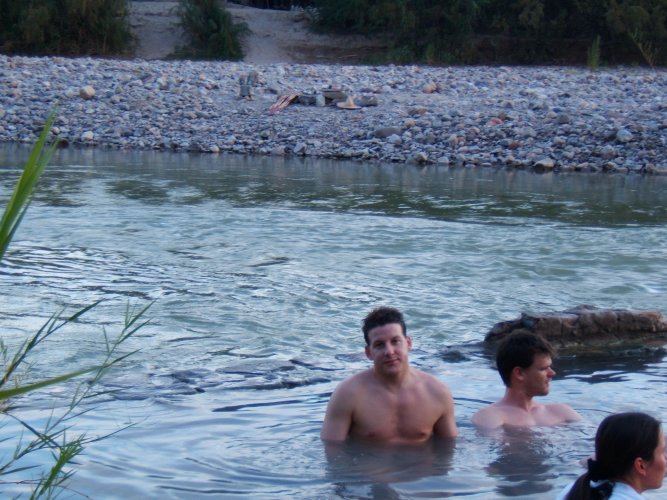 Sunset was pretty incredible at the hot springs - definitely worth capturing: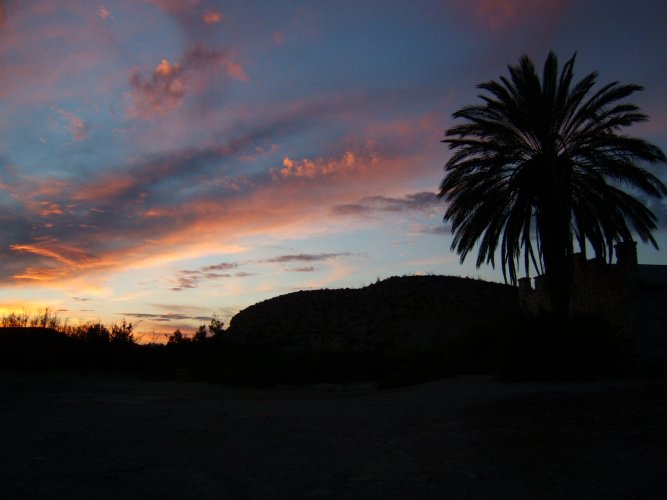 The next day Andy and Antonia took off early, but Astrid and I decided to hike Emory Peak. This was a rather pleasant hike - about 9 miles round trip, but with only (I'm guessing) less than 2000 feet elevation gain the hike wasn't difficult.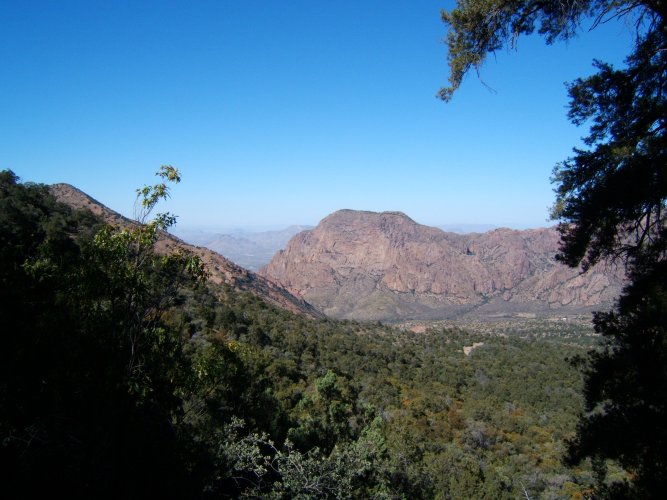 It's funny how the autumn leaves come to Texas in late November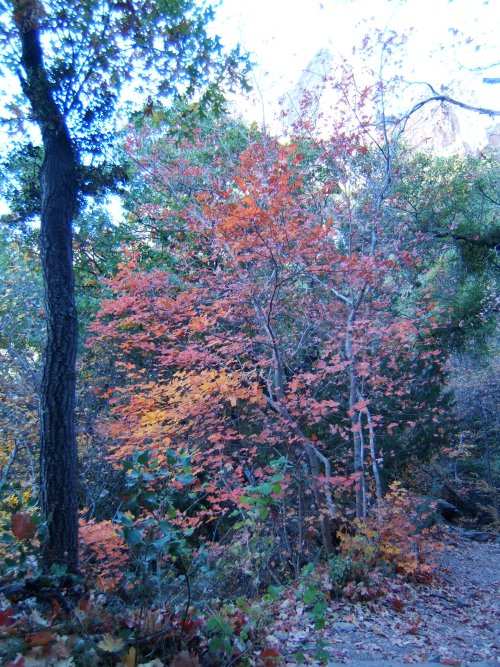 The view from the peak was impressive. I can recommend this hike to nearly anybody - it's quite walkable and has very nice scenery.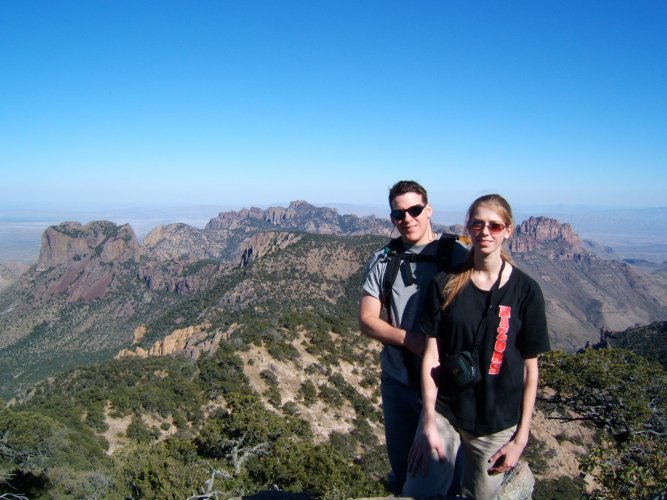 We decided to head north after the hike. Here's a very interesting mountain directly north of Big Bend (as seen from both main roads into the park). It's called Mt. Santiago. I think that this mountain has striking features. Quite a silhouette at dusk.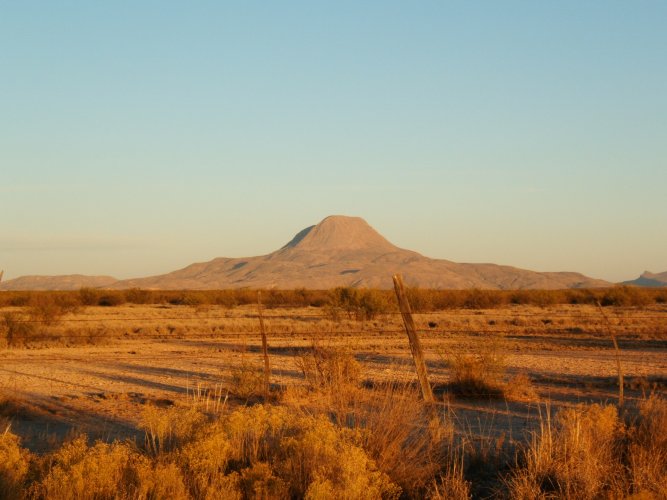 We camped that night near Fort Davis. Since the weather had been very warm and pleasant the entire trip, it was time to pay for it. That night the winds were gusting up to 60 miles per hour. Frankly I'm surprised that the tent made it, but it DID!!! I even managed to sleep through the intense flapping and howling. There's a first for everything I guess. Apparently the winds were funneling through the Davis Mountains and spilling right onto us.
That morning we spent an hour or so looking at Fort Davis - a Civil-War-era fort that played a role in the development of the Southwest. Later on the fort housed a regiment of black soldiers - we had a video narrated by Kareem Abdul-Jabbar to tell us about it! I never realized that he has an interest in history.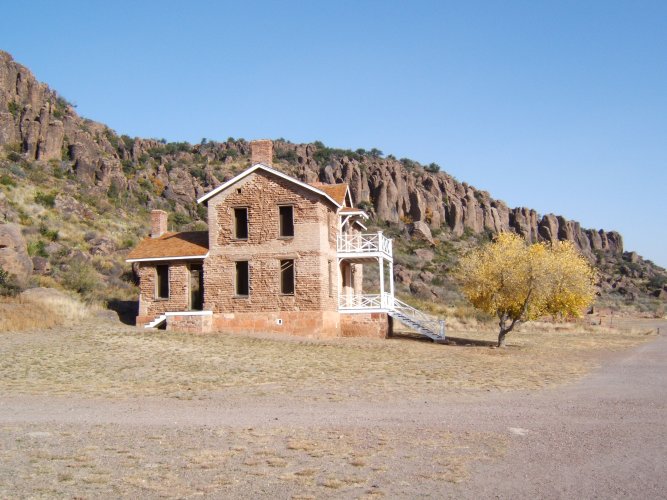 By 11:00 we had made our way up to McDonald Observatory. Since I'm in the math department at the University of Texas at Austin I often see the astronomers bumming around. I wanted to see if they actually do any work! I guess it turns out that they do... surprise surprise. They have some interesting equipment out there.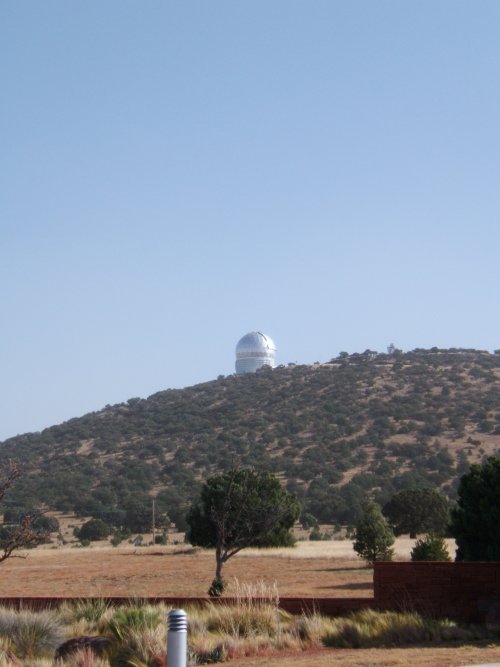 We took a tour - here is the 2.7 meter telescope. I forget the name now. Needless to say, the winds were so high that the particles in the atmosphere would scour the mirrors and destroy the machinery, so the doors were closed for the day.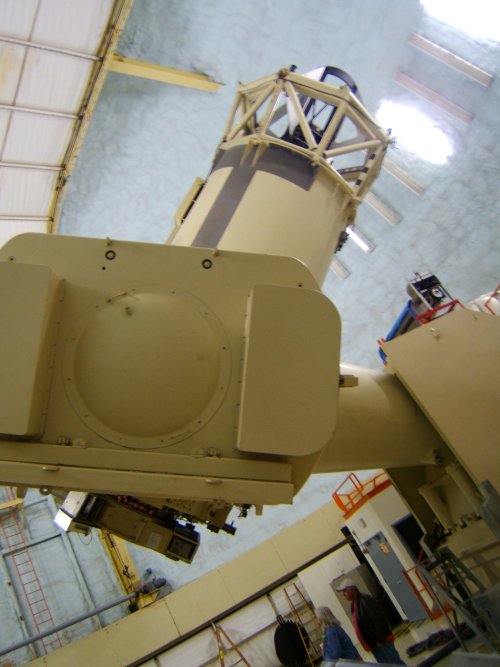 Here is the 9.2 meter Hobby-Eberly telescope - we were told that this little baby can see 80% of what Keck in Hawaii can and at 15% of the budget. That's a good thing I guess.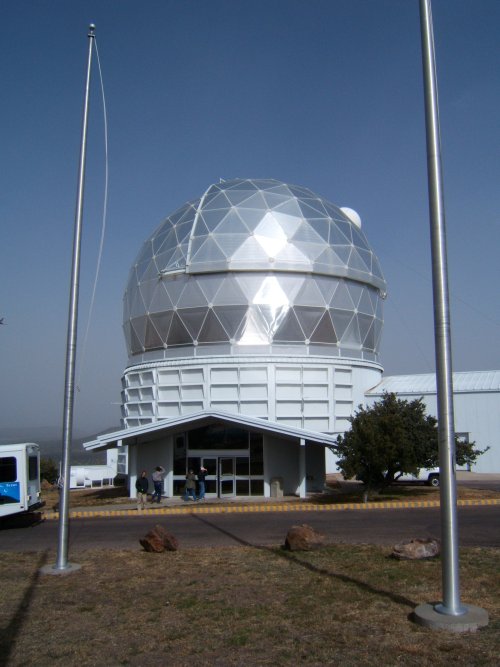 This page has been visited times since December 1, 2005