Spencer Stirling
For this year's annual pilgrimage to the desert Astrid and I decided to take her friends Laura and Danny (from Spain - studying in Holland) to see the Grand Canyon, parts of Utah, and finally Rocky Mountain National Park in Colorado. To make a long story short, I think that we have all decided to (from now on) leave the desert for the winter. It's better to brave the brutal cold than to deal with the brutal heat (when I say cold I mean COLD, and when I say hot I mean HOT).
Since I'm writing this six months later, I've forgotten nearly everything. Most of the pictures speak for themselves anyway. Still, there are some stories of trial that are burned in my memory.
After dealing with an immigration fiasco at the Houston airport picking up the Spaniards, we finally got on our way (several hours late). As usual, the drive across Texas was miserably boring. There's not much to look at. If you can avoid it, I recommend doing so. We made our way past Tucumcari, New Mexico (near Fort Sumner, burial place of Billy the Kid), through Albuquerque, and finally into Arizona. Normally I would have to stop and look at a million things, but we were in a hurry - so it was just driving driving driving.
Since we had never been to Petrified Forest National Park, and since it was basically next to the highway, we decided to stop and take a look. It is almost impossible to believe, but about 250 million years ago this region was a dense forest near the equator! The continents have drifted a lot since Pangea existed, but nevertheless 9-foot diameter trees were petrified and still exist today! The region is completely arid now. Check out this section of trunk.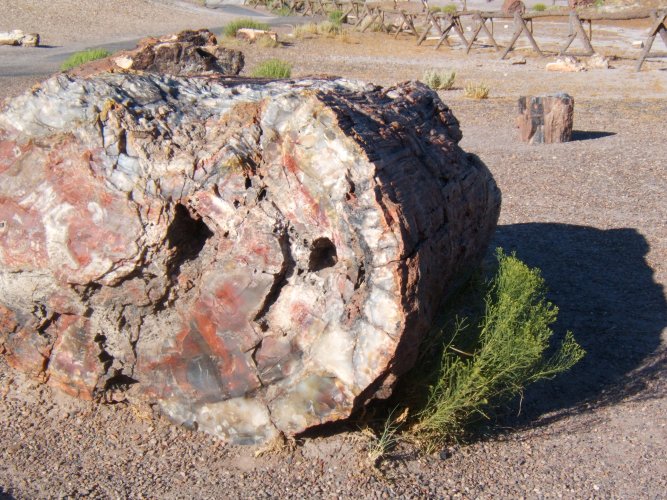 It's amazing how many trees are petrified out there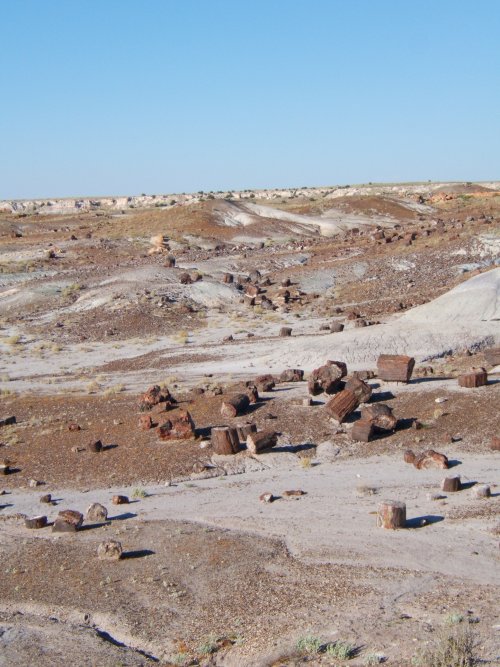 If you don't believe how big those trees are, here is a photo that I've submitted to Playboy magazine. Normally I'd be pissed at anybody sitting on a petrified tree, but the Park service seems to have basically made this into a sacrificial tree since everybody was sitting on it (and there was a sign and path to it, too). This still doesn't make it right, but when in Rome...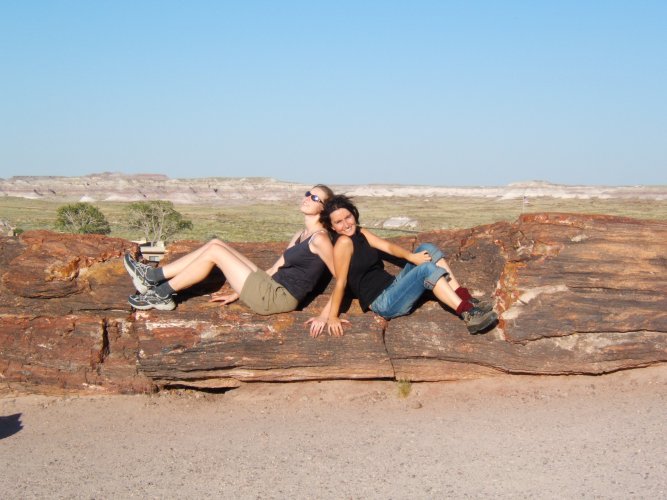 ...and through Southern Utah...
... to Rocky Mountain National Park, Colorado.
This page has been visited times since August 10, 2005