Spencer Stirling
We set up a fun vacation in Colorado - skiing in Breckenridge, Vail, Keystone, Beaver Creek, and Arapahoe Basin for a week.
Unfortunately, first we had to get there. So we drove across the country from West Virginia to Colorado. I have now driven across the country more times than I can remember, and I'm getting more and more sick of it every time that I do it. Much of middle America is depressing - just an infestation of truck stops and trash, "Jesus Loves You" signs and bad food. You know what I'm describing if you've been there, and if you haven't...
I'm on the left in this photo, next to Scott (Dierdre's boyfriend), Astrid, and Dierdre (Astrid's sister). Note the Citroen in the back - another one of Daan's fetishes. If you know Daan then you'll understand how subtley funny this is, and if you don't then it will just buzz over your head.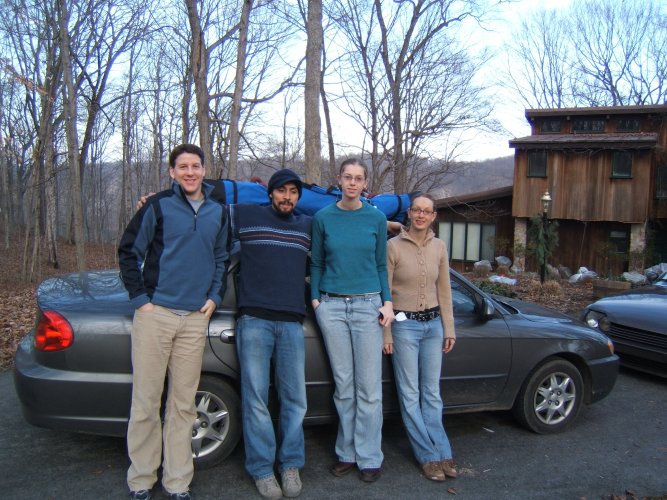 Those bastards caught me sleeping with a pillow case over my head.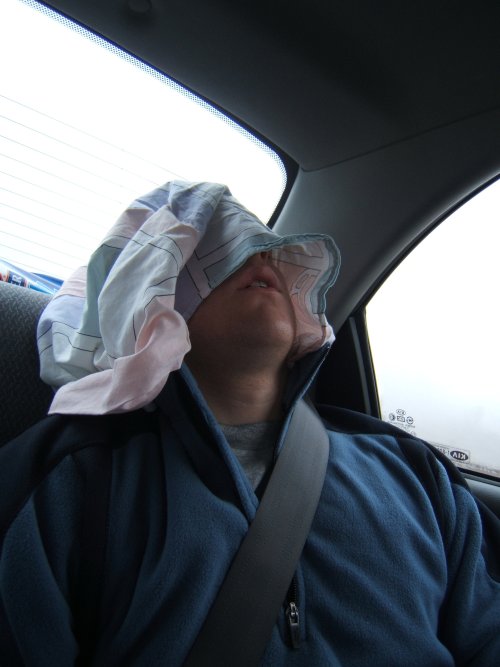 But this picture of Scott sleeping is FAR more cool.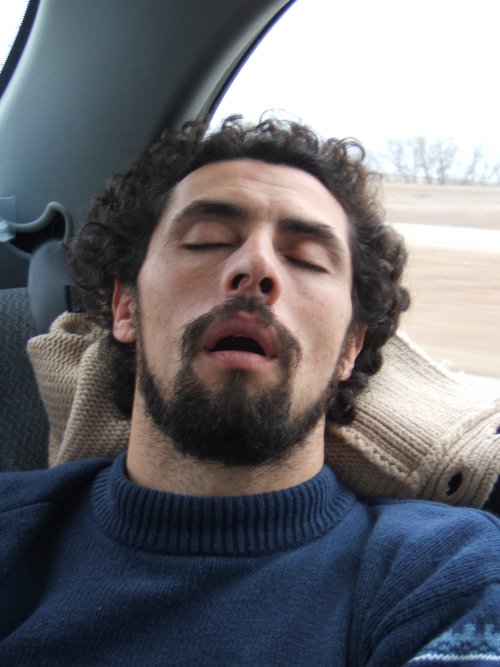 We rented a ski chalet in Breckenridge along with my friends Paul and Andy from the physics department in Texas. Here we are, ready to hit the slopes. Andy kicked ass on his teleboard the whole time, but Paul and I preferred the classic skiing. I'm the shortest one in this picture, but that's because those guys are tall. I swear. Whatever, I don't care.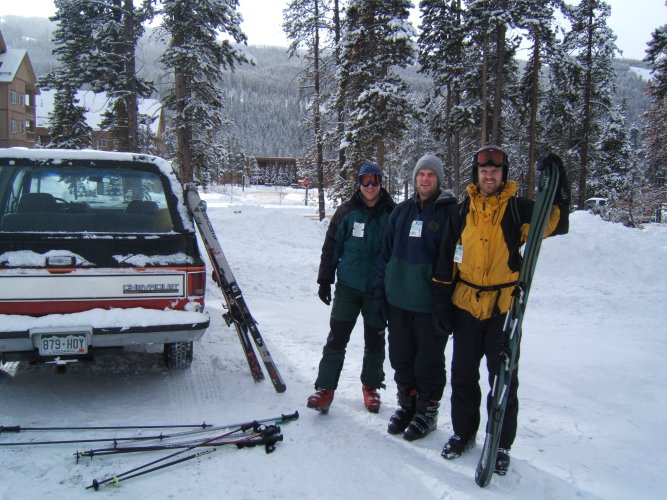 The runs in Breckenridge weren't very good. The terrain wasn't very advanced, and the advanced terrain had no snow. On the other hand, we did manage to find some pretty fun runs such as this one (entitled "the Burn").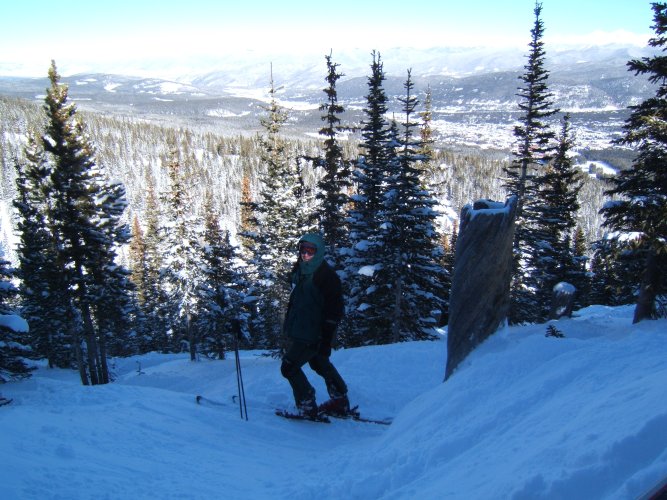 Here's a rare photo of the entire gang. This is because members of the Dierdre/Scott faction are die-hard snowboarders. Scott used to ride pro for Winterstick. Taking a run or two behind him is really fun - he'll find something cool to do on almost anything.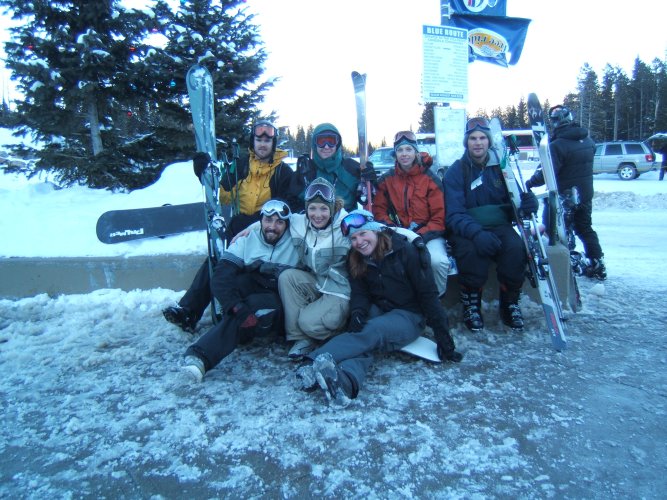 We had an EXCELLENT dinner at the Breckenridge Brewery. Astrid ordered tuna, and it actually came out nearly raw - just as she ordered it. Very few restaurants know how to cook tuna - instead they destroy it by overcooking. I ordered a rare steak, and it came out rare - just perfect. I don't even want them to put it on the broiler. I really just want them to throw the steak OVER the broiler, just so that it gets kissed by the flames. Notice the beard on Andy's face. This was part of a ski vacation beard pact made amongst those who were man enough to do it. As you can see in the rest of the pictures, my beard failed miserably. Maybe I'll have to try again when I'm 30.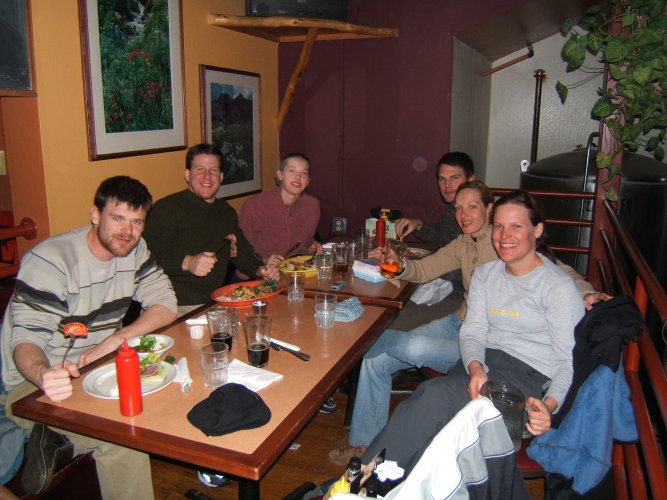 They also made a yogurt-wasabi sauce which was excellent. Chef recommends!

A fair amount of horseplay took place, especially when Andy found a really big icicle.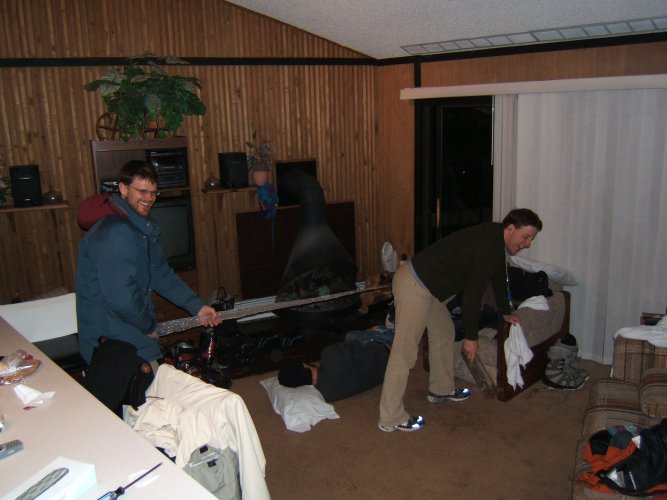 Don't judge me.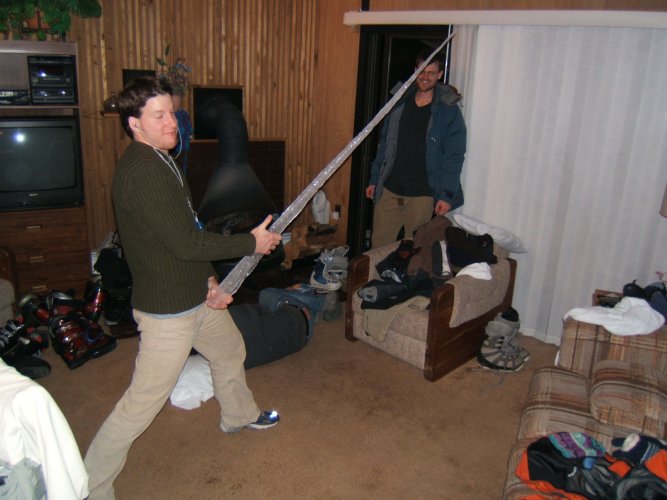 Colorado ended up being really fun. Personally, Vail was my favorite - it seemed to have the most/best terrain. The boarders seemed to really prefer Beaver Creek. Keystone was fun, although I was so tired that I couldn't really enjoy it, and Breckenridge seemed a bit mediocre, although we skied there a couple of times since it was convenient. Getting to those other resorts is still about an hour deal. Note the contrast with Salt Lake City, where another resort is about 5-10 minutes away. I'm just saying...
This page has been visited times since March 5, 2005